Limpopo the Musical
"The greatest show of our times"
LIMPOPO THE MUSICAL is an original production, created by performing arts practitioners who have a passion for the development of the arts. LIMPOPO THE MUSICAL is a quality production that has been around for fifteen years, during which it has been growing both creatively and qualitatively.
During the year 2013, LIMPOPO THE MUSICAL performed at the National Arts Festival in Grahamstown, where it was well received. The following year 2014, it had a run at the Pretoria State Theatre and this proves that it was ready to hit all major theatres in South Africa. The show is a multi-cultural masterpiece that is enjoyed by a truly multi-racial and multi-cultural audiences. It is also suitable for the whole family.
LIMPOPO THE MUSICAL is a high energy musical show which tells the story of Limpopo province in words, music, dance (modern and traditional), poetry, humour and sign language. It is a potpourri of music, dance and dramatic excellence, which all add up to the most exhilarating show to ever come out of Limpopo Province, and South Africa in recent years.

Limpopo The Musical is very humorous, energetic and creatively superior show with a strong entertainment value. It features original music composed by the writer and stars a cast of highly talented actors, dancers, singers, poets and musicians. The show is backed by a live band, which enriches the quality of the show and creates a vibrant musical ambience for its audience, a truly authentic moving theatre experience.
The show has been making waves in South Africa, with huge prospects for international success based on its universal appeal and entertainment themes it contains. ………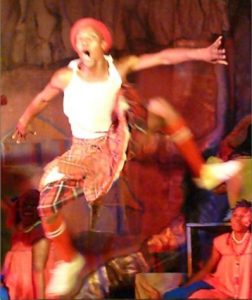 Until his recent passing, Oscar was producer of Limpopo the Musical. He was instrumental in the creation of this show and the show remains a legacy to him, (the show continues). Rest in peace.
Writer & Director of Limpopo The Musical (2006): He was born and raised in Seshego Township near Pietersburg/ Polokwane in Limpopo Province on the 20th of July 1966. He is an actor, a writer, a dancer, a singer, a composer, and a theatre director. Currently, he is studying towards a Post-Graduate Diploma in Arts with the University of the Witwatersrand.
A qualified schoolteacher. John was born and raised in New Pietersburg Township in 1948. He started teaching in 1971 until his retirement in 2008. He has experience in teaching music, training, conducting, competing, and adjudicating in music. 
Wilhelm Disbergen is a prolific set, lighting, costume, and audiovisual designer. He has designed sets, lighting and AV for opera, ballet, musicals and theatre and has staged some of the biggest theatre productions in South Africa.  He has won multiple Theatre Awards for his set and lighting design.
Lydia has produced, production managed and stage managed a wide variety of events; from Opening Ceremonies, Corporate Events, Concerts, National celebration events (National Orders, Presidential Inaugurations.
Agnes is a trained educator and researcher with an honours degree in Research from the UNiversity of the Witwatesrand, who is currently an facilitator with Class Act Educational Services. In this position she performs various duties ranging from training teachers to monitoring learning performance of learners. She has extensive experience in the education field and is well suited for the position of Lead Researcher for Limpopo The Musical.

Office Hours
Mon – Fri: 08h30 to 16h30
Location
7 Jorissen Street
Polokwane, 0699
Limpopo
Contact Us
Mobile:
+27 (0) 84 864 4118
eMail:
info@limpopothemusical.com